FARE Observer Scheme
Setting better standards for sport and humanity
We believe that tackling discrimination in football requires a multi-facetted approach that combines educational activities, self-regulation among fans and measures by governing bodies. Fare does not issue sanctions.
The Fare network has developed an observer scheme at European level matches as part of our work to tackle and educate against discrimination, and challenge far-right extremism, inside football stadiums.
Why such a scheme is necessary?
From media reports and high profile incidents involving players, we know that the problem of discrimination remains an issue across the continent. As Europe struggles with its changing demographics against a backdrop of economic disparity, intolerance continues to be a feature of some football stadiums with abuse against minorities and far-right symbols being used by some supporters.
The observer system allows us to better understand the scope of the problem, collect evidence and conduct an analysis, and call for responsible action by governing bodies.
The data collected is used to focus stakeholder attention on particular problems and incidents, and stimulate a debate on measures to tackle the problem on the part of NGOs, fans, clubs and governing bodies. The evidence suggests that highlighting incidents and clear regulatory action raises awareness and debates.
We want to ensure that football fans and other stakeholders are doing everything they can to prevent racist and discriminatory incidents from occurring and react when incidents occur.
Which matches are monitored?
Members of the Fare team assess all international matches in Europe for the likelihood of discriminatory behavior and send observers to matches that we identify as a risk for potentially high levels of racism, extreme nationalism, xenophobia, antisemitism or homophobia.
The assessment is made on the basis of previous reports received by Fare and an evaluation into the nature of the fixture in its socio-cultural context.
Fare does not send observers to domestic league fixtures. However we receive reports through the media, from members and incoming reports, which help us to develop a picture.
Who are the Fare observers?
The Fare observers are experts who have been recruited through an open process from across Europe. All have background knowledge in anti- discrimination issues and fan scenes.
All observers speak the language of the teams they have been appointed to observe and are familiar with the corresponding fan cultures. The observers are working on a voluntary basis and are committed to being unbiased. They are not appointed as an observer at a game involving a team they follow themselves as supporters, or a close rival team.
All observers receive training and agree to a strict code of conduct before they start their work. Observers are independent individuals and are not required to be Fare members. Fare members, conversely, are not usually Fare observers.
To protect the personal safety of our observers, Fare guarantees their anonymity towards third parties and we vouch for the quality of their work. All reports are vetted and checked for quality.
How do the Observers prepare for matches?
Fare observers conduct research and draw on their own experience prior to their designated match. They observe the game in the stadium to record incidents of discriminatory chanting, displays of far-right symbols and other examples of overt discriminatory activities. After the final whistle, the observer will submit a report to Fare detailing all discriminatory incidents noted during the match.
An assessment of the report is made by Fare and it is filed with the appropriate international governing body.
What are we reporting?
Fare reports all activities of a discriminatory nature: racist, homophobic and sexist incidents, abuse of disabled people and far-right or nationalist symbols or actions.
Incidents can include overtly discriminatory behaviour such as monkey gestures or Nazi salutes, chants, banners, flags, clothing, parts of choreographies, slogans or songs that can be heard or seen during the respective game.
Fare does not issue sanctions
Fare has third party reporting status with UEFA and has recently launched a global monitoring scheme with FIFA. It is our policy to call for regulatory action, however as a reporting agency we are not responsible for the procedures in place by the governing bodies.
Sanctions are the responsibility of governing bodies and are subject to strict legal rules, Fare does not influence them.
Report incident
Something to Report?
We all have a part to play in tackling discrimination. If you have witnessed racism, homophobia, sexism or related forms of discrimination you can report it to us here.
Your incident will be recorded and when possible action taken.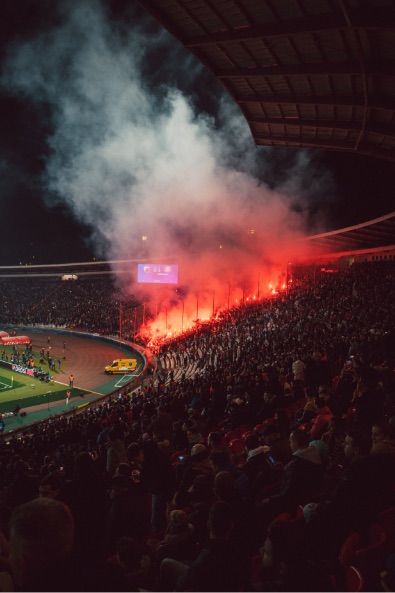 Discriminatory Signs and Symbols
Fare has produced comprehensive guides draw on expert submissions and knowledge gathered from the Fare Observer System at UEFA international club and national team events. They outline the most commonly displayed discriminatory practices globally and is far from exhaustive. As in wider society, discrimination takes many forms – in football it is banners, chanting, symbols and hidden codes. These guides, however, are not a list of prohibited symbols and codes upon which disciplinary proceedings would be opened automatically. Each incident may be assessed individually including the context in which it was displayed.
They aim to support fans, governing bodies, and individuals involved in football in recognising, preventing, and addressing discriminatory abuse within the sport.

Check both guides here